MPM Edison Stencil Printer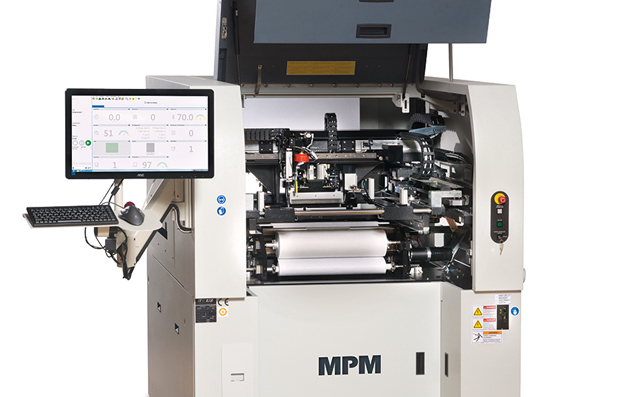 The next generation MPM Edison stencil printer is designed to meet the demand for increasing throughput, yield and performance requirements from the automotive, smart device and semiconductor markets. Edison is optimised for ultra-fine pitch (0201M) printing with a transfer efficiency up to 75% for small apertures.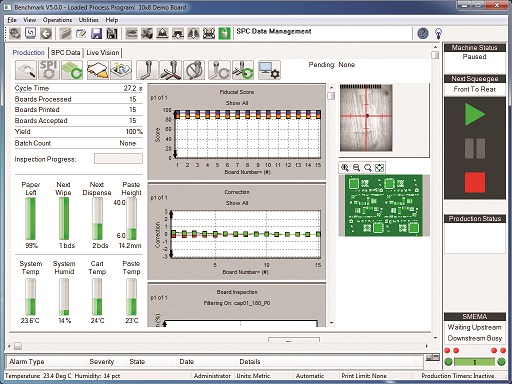 EASY TO LEARN AND USE FOR THE AVERAGE OPERATOR, MPM'S BENCHMARK SOFTWARE IS POWERFUL YET INTUITIVE, AND FACILITATES RAPID SETUP, ASSISTS WITH OPERATIONAL TASKS, AND MAKES CHANGEOVER QUICK AND EASY. THE SOFTWARE HAS BEEN UPGRADED TO WINDOWS 10 AND NEW PRODUCTION TOOLS AND NEW QUICKSTART PROGRAMMING TO MAKE IT EVEN EASIER TO USE.

MPM's OpenApps is an open architecture source code which provides the capability of developing custom interfaces in support of Industry 4.0 initiatives and communication with Manufacturing Execution Systems (MES). ITW EAE is the first SMT company to offer open software architecture.

Advanced Print Head
Single-axis, closed-loop pressure control for dual squeegee eliminates front-to-back variation.  A single high-precision load cell provides squeegee force, and a unique algorithm calibrates out non-linearity, maintainng the set pressure across the entire board surface.
Board Staging
Ability to have three boards in the machine simultaneously, reduced distance on input conveyor by pre-loading the board during the print process results in reduced transfer times and improved cycle time.

EdgeLoc Board Clamping
The EdgeLoc system uses a side snugging technique that removes the need for top clamps which interfere with the PCB to stencil contact. The result is optimal gasketing and more volumetrically consistent edge-to-edge  prints. With EdgeLoc II, robust flippers engage to secure the board across the top edge ensuring board flatness then move out of the way once the board is firmly gripped from the side. EdgeLoc+ board clamping can change between edge and top clamping simply through software.
High Speed Vision Alignment with Ultra-slim Camera
Edison features a high-speed vision alignment system with an ultra-thin camera. The overall gantry thickness is only 39 mm featuring an 'on the fly' 'POE' (Power Over Ethernet) camera. A single CCD split field provides precision simultaneous up-down image acquisition with a field of view 9.0 x 6.0 mm.

OpenApps Architecture
OpenApps is an MPM open architecture source code that allows customers and third parties to develop custom interfaces in support of Industry 4.0 initiatives and Manufacturing Execution Systems (MES).
Paste Height Monitor
The Paste Height Monitor is designed to prevent defects caused by inadequate volumes of paste on the stencil. It combines advanced software and sensor technology to accurately monitor the paste bead for volume consistency. Upper and lower limit roll-height monitoring eliminates insufficient or excess paste volumes. It is a non-contact solution that can automatically add more paste to the stencil as it is needed.

SPI Print Optimizer
The SPI print optimizer communicates with the external Solder Paste Inspection (SPI) system to continuously monitor and auto-correct X, Y, and Theta registration 'on the fly' to stay on target and prevent print defects.


Ultra-fast, High Efficiency Wiping System
A super-size 65m paper roll allows 10,000 prints per change. Patented paper tension control provides more effective wiping and a separate wiping and printing zone prevents cross contamination.