Fisnar – Automatic Liquid Dispensing Controllers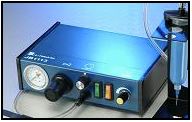 JB1113N Liquid Dispenser – Timed Shot

The JB1113N automatic dispenser is the most popular bench controller ued in industry today offering excellent value and features. It is used for many syringe dispensing applications from low viscosity cyanoacrylate to high visocosity silicones.
DSP501N Liquid Dispenser High Volume Controller

The DSP501N is recommended for liquid dispensing applications requiring a larger volume of pneumatic pressure such as when dispensing silicone from cartridges, glue from tubes with an autocube system or controlling a 3-way valve. The unit exhausts a greater volume of air, which helps prevent fluid run-on.
DB815 Liquid Dispenser – Manual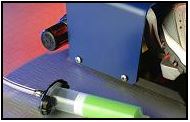 Often a non eletrically operated dispensing system is required for hazardous environments where electrical switching is not recommended, the DB815 is suitable for these circumstances. The DB815 is an economic pneumatic foot switch system, which is placed under the banch on the floor, a longer hose reaches from the dispenser to the bench.
Vacuum Bench Pick & Place Machines

Many applications require a vacuum pick & place wand to be used in conjunction with a dispenser for adhesive, flux, glue, flux paste and liquid flux dispensing. Fisnar Inc. offer vacuum pick & place systems using air only or electrically switched using a foot pedal.
SL101N Digital Dispenser – Nine Programs – Three Modes

The latest in digital controller technology with a clear digital display, the SL101N dispenses timed micro shots from 0.01 to 0-99.99 seconds. The digital dispenser has three modes of operation, manual, timed and cycling. Nine programs may be stored in the bench dispensing or integrated to an automated system.
DSP502N Dispenser with Suck-Back Gauge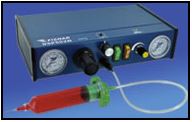 The DSP502N includes an analog gauge to provide a visual indication of the level of suck-back measured in psi.
PPD130 Peristaltic Pump Dispenser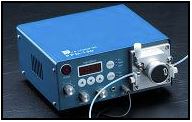 Air free dispensing is often required for accurate tranfer of volatile liquids, the technology is proven and pumps are chosen to avoid hazardous substances. Operator contact is limited and the PPD130 can dispense shots between 0.01 – 6ml/min using Teflon tubing. The pump is reversible to provide snuff-back.