Universal – Surface Mount – Fuzion® Platform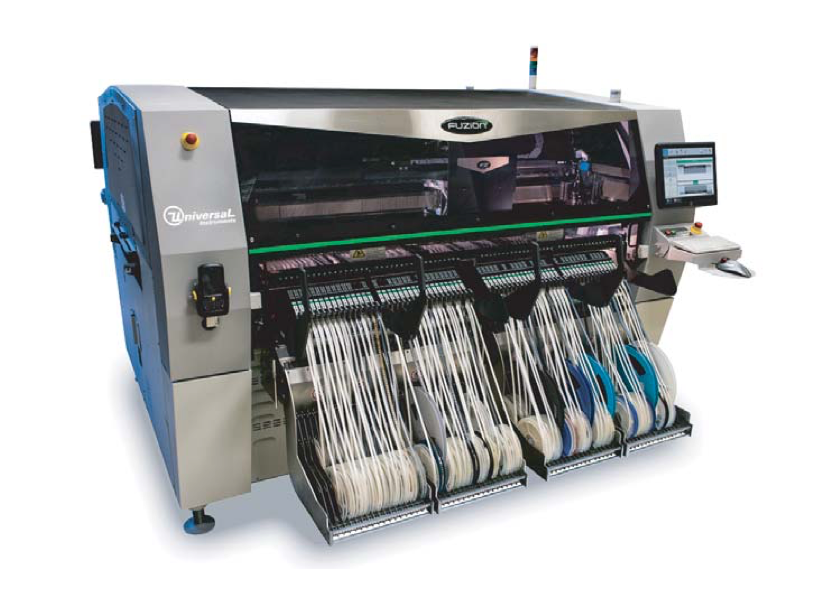 Fuzion™ enables manufacturers to accommodate the most
diverse revenue stream and produce a full range of products in
a lean environment – build any product at any time, accelerate
new product introduction and ramp to volume, maximize
utilization, quality, and yield. Fuzion enables operational
excellence to deliver considerable cost savings, increased
productivity and ultimate profitability.
1, 2, 4-beam variants
Extra-capacity (XC) models with up to 272 feeder inputs
Versatile multi-task odd-form (OF) model
Throughput up to 140,000 cph per module
Industry-leading cost per placement, flexibility and accuracy
Largest board size capability
Closed-loop processes to ensure the highest yields
Maximum performance and utilization for any volume/product mix
Comprehensive toolset to accelerate NPI and achieve 100% first-pass yield
Ability to prototype on a single module
Lowest cost of operation and ownership
Fastest time to market, highest yieldsƒ

– Sequential process for complete board build
ƒ- Production-ready first piece
– Dynamic Editing – No taped boards needed, no waste ƒ
– Simple, menu-driven process
ƒ- Get into production quickly, efficiently, and effectively ƒ
– Reduce scrap and repair costs
Manufacturing Execution Software

Connect. Streamline. Control.
The Dimensions software suite features powerful NPI solutions and changeover tools to accelerate product introductions, as well as turnkey shop floor control tools that provide real-time visibility and analysis to maximize utilization and track and trace materials during production.