Fisnar – Valves for Precision Disprnsing
Dispensing Valve Selection Chart

    Adapter assemblies are supplied with any purchase of a Fisnar dispenser, replacement adapters for 3, 5, 10 and 30cc barrels and their component parts can be purchased separately including, adapter O-rings seals, end-caps, polyethylene barrel pistons, adapter hose, safety-clips, filter-traps and barrel tip-caps.
Diaphragm Valve

Diaphragm valves provide precision micro-shot dispensing of liquids such as cyanoacrylates, solvents, electrolytes, alcohols, and acids, A single part diaphragm and seal separates the wetted parts for reduced maintenance. Diaphragm valves for UV cure and anaerobic materials are also available.
High Pressure Valves

Designed for dispensing high viscosity materials, these high pressure valves are can accept over 3,000 PSI of fluid pressure. The 790HPNM spool valve is engineered for high viscosity silicones and greases. The LV-0126NM-LF needle valve is suitable for small shots and beads of high visosity. The valve is adjustable for shot size tuning.
Positive Displacement Valves

Positive displacement valves are available as either servo driven auger valves or peristaltic dispensing pumps. An auger valve is a servo motor driven valve suitable for dispensing high viscosity pastes. A peristaltic dispensing pump is a volumetric valve with an adjustable chamber for accurate deposits.
Needle Mini Valve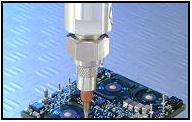 A lightweight needle valve designed for hand-held dispensing of micro-shots and small beads of medium viscosity materials. The valve is available with stainless steel wetted chambers for UV cure dispensing, plastic chambers for anaerobic dispensing, or aluminum for dispensing silicones, grease and lubricants.
Poppet Valves

Poppet valves are multipurpose valves suitable for small shots and bead dispensing of medium or high viscosity fluids such as silicones, grease and paste. Poppet valves can dispense up to 300 times per minute and are developed with a suck-back feature to prevent post-dispense dripping.
Cartridge Valve

A lightweight valve that is suitable for hand held operations or can be integrated into high cycling automated dispensing applications. The cartridge valve has a maximum fluid pressure of 300psi and can dispense low and medium viscosity fluids such as silicone, RTV oils, grease and lubricants.
Spray Valves

Fisnar Inc. Spray Valves are designed for dispensing urethane, flux and lubricants and for conformal coating applications. All spray valves are made of stainless steel and provide close tolerance spray dispensing. The spray nozzles are specially engineered to prevent material clogging and a stroke adjustment provides accurate dispensing.
Pinch Tube Valve

A pinch tube valve can be used in many situations, it is regularly used for volatile fluids, such as in cyanoacrylate and solvent dispensing. The adventage of this valve is that the wetted parts are replaceable at a low cost. Because of this, the valve can also be used with two-part resins and placed at the end of a static mixing nozzle.
Valve Controllers

Programmable valve controller models providing, 3-way and 4-way pulsed air control for accurate dots and beads, timed and atomized close tolerance spray functions and electronic control of volumetric dispensing using servo driven auger valves.