ITW EAE – Soltec – Centurion Reflow Soldering Oven
The Centurion reflow soldering oven is the latest evolution in a long history of reflow system that have proven their capability worldwide and established a reputation for superior reliability.
Industry-leading Thermal Performance
With Centurion's new design backed by our experiences with its prior generations, we achieved better thermal transfer even with wider process chamber.  Our knowledge and experience in process control ensure repeatability across the ovens required by the most demanding customers and the most challenging process requirements in the world. 
Cost of Ownership
With an efficient heat transfer design, Centurion provides low energy consumption. Its reliable and robust design, backed by over 20 years of SMT experience and capability, ensures high uptime even with the toughest reflow requirements. Our patented CATHOX™ further reduces cost of ownership by reducing the maintenance needs through cutting-edge technology of flux treatment. The new 'idle mode' option will further reduce cost of operation.
Maintenance and Accessibility
The patented CATHOX™ (Catalytic Thermal Oxidizer) dramatically reduces maintenance requirements while keeping a clean process environment. It is very effective in removing volatile compounds from the process tunnel during reflow. In thermal oxidation, organic vapors are converted to hydrocarbons, which are captured by a filter. Centurion's design also ensures that when maintenance is required, you have easy access and can do the maintenance job with few tools required.
Dual Lane w/Independent Lane Speed Control

Dual lanes with independent conveyor speed control doubles throughput and allows two different boards to run in parallel, a good value for high-mix low-volume manufacturers.
Dual lane configurations up to 2 x 300 mm
Optional combo belt/rail conveyors
Single or dual board support systems
Fast Cool Down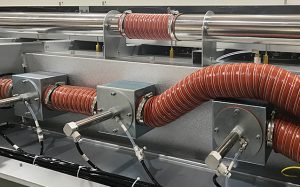 Fast changeover time is a key factor for high-mix low volume manufacturers. Fast Cool Down (FCD) is a key option when there are multiple recipe changes in a day, especially when changing profiles from high to low temperature. Through computer program, FCD automatically controls individual zones to reach its specific temperature setpoint.
Cathox Flux Filtration System
Patented Technology
Avoid requirement of external devices like chillers
Provides maximum maintenance intervals for cleaning activities
Heating zones remain clean, no cleaning required
No buildup of flux on width adjust units and other mechanical drive mechanisms
Low cost of ownership
True N2/Air Switch
The True N2/Air switch on a nitrogen machine allows the user to easily switch between air flow system and nitrogen flow system for different productions. In Nitrogen production, nitrogen is recirculated to save the operating cost, and in Air production, the new air flow system proactively extracts air out of the chamber to the exhaust box.
This option provides the customer with the combination of a true N2 machine and a true Air machine
New Air Flow System
The new air flow system is designed to extract flux contaminated air out of the chamber of an air environment reflow oven. The system isolates the heating and cooling section of the tunnel with an additional venturi. It reduces refresh time and maintenance time, providing a much cleaner environment.
Traceability
Management Information Systems provides log files with all set and actual values
Barcode software has ability to connect to an individual product
Barcode software can be used for automatic program selection
Connections to host systems are possible using optional CAMX interface
Easy Removable Exhaust Box with Temperature and Pressure Monitoring
Designed as part of a flux management solution when a reflow oven exhausts directly from the oven in an air or N2 environment.  This option condenses and collects flux in the exhaust box by reducing the flux temperature to be captured in the filters with temperature monitoring feature.
Easy maintenance
Efficent flux condensation
Advanced alarm for flux clogging