Fisnar – Tips Barrels and Consummables
Tips and Needles

Dispensing tips are also know as dispensing needles. Blunt end tips are the most popular and versions can be found in different gauges, lengths and threads. Tapered needles are used for high viscosity fluids, they are also described as smooth-flow. Precision tips are machined stainless steel. Teflon is used to dispense cyanoacrylate.
Dispensing Stands

Dispensing stands allow barrels, cartridges, and valves to be set up on as bench-top working station. A heavy-duty cast base is provided for precise alignment and positioning of barrels, valves, cartridges and retainers. An adjustable horizontal arm allows for z-axis adjustment.
Dispensing Accessories & Fittings

In this category we include, air filters, clean room filter/mufflers, air manifolds and liquid maniflods for multiple fluid dispensing assemblies. Other dispensing fittings include a wide selection of male and female connectors to assembly various air and liquid hose arrangements including luer lock fastenings and couplings.
Dispensing Barrels

Precision dispensing barrels or syringes are available in 3, 5, 10 and 30cc sizes. For general dispensing polypropylene barrels are clear so that the fluid may be seen. Semi transparent, tan colored barrels are suitable for some types of UV cure resins and black opaque barrels are suitable for all UV cure resins.
Accessory Kits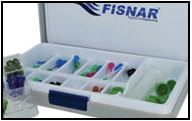 Adapter assemblies are supplied with any purchase of a Fisnar dispenser, replacement adapters for 3, 5, 10 and 30cc barrels and their component parts can be purchased separately including, adapter O-rings seals, end-caps, polyethylene barrel pistons, adapter hose, safety-clips, filter-traps and barrel tip-caps.
Dispensing Cartridges and Nozzles

Cartridges are available in 2.5oz, 6oz, 8oz and 12oz sizes, metal cartridge retainers have air pressure applied via a retainer cap. Polypropylene dispensing nozzles have 1/4″ NPT threads to fit cartridges and valves. Nozzles provide a larger dispensing deposit or can apply a spread of material